FULL OBDII SYSTEM DIAGNOSTICS
Built with an 8-in color display and Android 9.0 operating system providing a secure and straightforward operation. The package comes with multiple connectors to access more than 70 brands of American, Asian, and European cars. Wifi connectivity and Bluetooth capabilities giving you freedom of mobility.
BENEFITS AND FEATURES:
  OBDII operations for retrieving OBD2 vehicle diagnostic information;
Read Codes: displays detailed information of DTC records retrieved from the vehicle control module.
Erase Codes: erases DTC records and other data from the ECM.
Live Data: retrieves and displays live data and parameters from the vehicle's ECU.
USB or Bluetooth Connection: With the VCI dongle, data transmission between the vehicle and the CJ8K could be either through the USB cable or the Bluetooth VCI.
Fast Wireless Connection:      Available Range Up to 230m. CJ8K comes with both Wi-Fi technology and long-range Blue-tooth connectivity that provides its users with an ultra-fast      Vehicle Communication Interface. You don't have to wait. Just plug it into the OBD-II dashboard and it will diagnose within seconds.
Muti-Language: English, Spanish, French, German, Polish, Italian, Japanese, Dutch, Portuguese & Russian.
Built-In: 2CH oscilloscope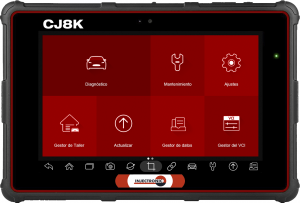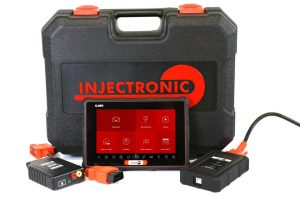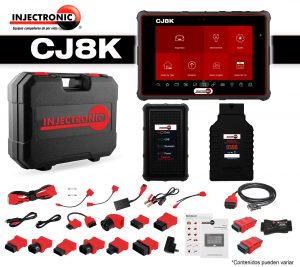 AUTO VIN SCAN: HELPS YOU IDENTIFY CARS QUICKLY AND EASILY.
25+ Common Service & Maintenance Functions
including, including Key Fob Programming, Oil Reset, EPB, TPS, TPMS, BRT, DPF, SAS, CVT, Odometer, Gear Learning, and Injector Coding.
To list some:
1. Oil Service Reset
Allows you to reset the service lamps on the instrument cluster. The Service Indicator System is designed to alert the driver when the vehicle is due for a service.
2. EPB, Electronic Parking Brake
Allows you to perform the service and maintenance of brake systems, including deactivation and activation of the brake control system, bleeding brake fluid, opening and closing brake pads, and setting brakes after disc or pad replacement, on multiple brands of vehicles where electronic brake systems are fitted.
3. BRT, Battery Replacement
Lets you to new battery validated, how to clear faults from the dashboard and display.
4. TBA/TPS, Throttle Body Alignment
Using the throttle position sensors in the throttle body, the ECU learns the full open and full closed positions through various states (idle, part throttle, WOT) known as a Throttle Body Alignment (TBA)
5. SAS, Steering Angle Sensor Calibration
Let you perform calibration of the Steering Angle Sensor.
6. DPF, Diesel Particulate Filter Regeneration
Let you perform the DPF cleaning to clear the blockage through continuous burning of the particulates captured in the DPF filter. When a DPF regeneration cycle is completed, the DPF light automatically goes off.
7. TPMS, Tire Pressure Monitoring System Programming
Allows you to check the tire sensor IDs from the vehicle ECU and to perform TPMS programming and reset after tires and/or TPM sensors are replaced and/or tires are rotated.
8. Odometer
This function allows you to revise the date of the odometer and write the original date into a new odometer.
9. A/F Adjust
Correspondingly change the fuel supply to change the steam production of the boiler and maintain the energy balance in the combustion process.
10. CVT
This function is used to reset the compensation code and initialize the ECT after a solenoid valve, or valve body assembly has been replaced
11. Injector Coding
This function is to reset and match the date after the injector is replaced.
12. Gear Learning
Crankshaft position sensor adaptive learning.
13. ABS & SRS Diagnostic
ABS Test – tests ABS motors, solenoids, solenoid enable relays, EMBs, and more.
ABS Version Test – displays the name of the brake system and the ABS controller version number, software ID, and sequence value.
Actuator Test – tests AYC valves, inlet valves, outlet valves, pump motors, and TRACS valves.
Auto Bleed Test– removes air from the internal brake fluid chambers after servicing the brakes
· Freeze frame
· Clear codes
· MIL fault indicator light
· I/M readiness
· Live data stream
· On board monitor test
The CJ8K supports diagnosing all controlled modules, including:
Engines / Auto Transmission / Airbags / Immobilizer / Key Coding / Anti-Theft / Central Locking / ABS / Cruise Control / Instruments / Self Leveling Suspension systems / Air Suspension / Navigation System / Audio Systems Central Locking / Body Systems / 4WD System Stabilizer / Automatic Clutch / Clutch Electronics / Gateway Seats / Seat Memory / Doors / Door Motors / Sliding Doors / Electric Windows / Heated Rear Window / Xenon Headlights / Headlamp Leveling / Wash Wipe / Steering Angle / Power Steering / Multi-Function Steering Wheel / Electronic Power Steering & Motor Assisted / Tire Pressure / Rain Sensors / Intelligent Parking Assist / Electronic Parking Brake / Air Conditioning / Tiptronic / Soft Top / DPF Reset / Plip Programming Fuel Burning Heater / Transfer Box / Oil Life Service Reset / Electronic Throttle / Rollover Sensor / Aux Heating…etc.
THE ART OF ANALYZING GOOD WAVEFORMS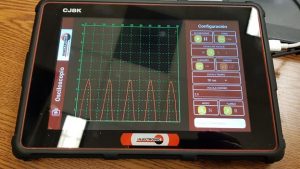 ANOTHER APPROACH TO DIAGNOSING VEHICLES AND EQUIPMENT
Automotive repair shops must keep up with technology, or they will be outdone by the manufactures. Using an oscilloscope gives you an advantage in troubleshooting difficult-to-diagnose vehicles. Once a connection is made with probes, we can analyze good or bad waveforms by comparing them to the intergraded component waveform library.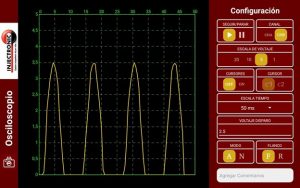 TECHNICAL SPECIFICATIONS
2-channel oscilloscope
Maximum sampling 400 khz.
Direct current bandwidth at 40 khz.
Input impedance 1 mega ohm.
Vertical resolution 10 bits
Base time of the full scale from 312 uS up to 500 mS
Time scale (roll mode) 1 sec up to 10 min.
Voltage scale from 1 volt to 20 volts.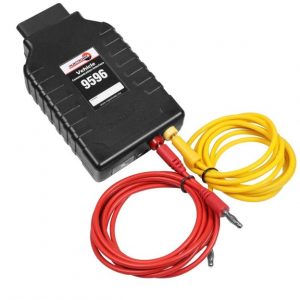 FUNCTIONS AND CHARACTERISTICS
Voltmeter included.
Reference waveforms (graphs for reference)
Trigger source mode: in automatic or normal mode.
Setting the trigger level on the screen.
Two measurement cursors.
Rising and falling waveform sampling.
Function to freeze the screen.
American Cars:
Buick; Cadillac; Chevrolet; Chrysler; Dodge; Ford; GM; Hummer; Jeep; Lincoln;
European Cars:
Abarth; Alfa Romeo; Audi; Bentley; Benz; BMW; Bugatti; Citroen; Dacia; EU-Ford; Ferrari; Fiat; Jaguar; Lamborghini; Lancia; Land Rover; Maserati; Maybach; Mini; Opel; Peugeot; Porsche; Renault; Rolls-Royce; Rover; Saab; Seat; Skoda; Smart; Sprinter; Vauxhall; Volvo; VW;
Asian Cars:
(JAPAN) Acura; Daihatsu; Honda; Infiniti; Isuzu; JP Isuzu; Lexus; Mazda; Mitsubishi; Nissan; Nissan GTR; Scion; Subaru; Subaru; Suzuki; Isuzu; Toyota;
(KOREA) Daewoo; Hyundai; KIA; Samsung; SsangYong;
(CHINA) BJ Hyundai, BRILBMW, DF Honda, DYK, Ford CHINA, GQ Fiat, GZ Honda, Mazda CHINA, SAIC Skoda, SAIC VW, Toyota CHINA, FAW Audi, FAW VW
(INDIA) Mahindra; Maruti; Tata;
(MALAYSIA) Perodua; Proton;